KARGIL, NOVEMBER 15, 2021: Executive Councillor for Technical Education Mohsin Ali inaugurated Five Day Long Self-Employment Mela cum Awareness Camp at Industrial Training Institute (ITI) Kargil here today.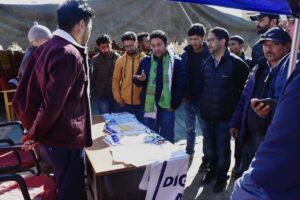 The camp aimed to impart awareness to the unemployed youth about different bank loans and government subsidy schemes in industries and entrepreneurship has been organized by the Department of Technical Education and Skill Development UT Ladakh.
On the occasion, different wings of the ITI Kargil, State Bank of India, J&K Bank, Grameen Bank, Punjab National Bank, J&K Cooperative Bank, District Industries Centre Kargil, GST Department, SC/ST Development Corporation Kargil besides other departments had put up their stalls to impart awareness about several government schemes relating to subsidy and entrepreneurship.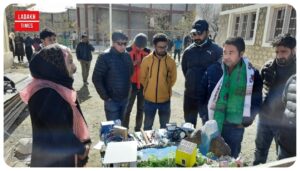 Chief Planning Officer (CPO) Kargil Abdul Hadi, General Manager Industries Centre Iftikhar Naseem, Superintendent ITI Kazim Ali, Lead Bank Manager Kargil Tsering Angmo, bank representatives among other officers were present on the occasion.
EC Mohsin Ali inspected all the stalls and enquired from the officials regarding different loans and subsidy schemes available for public especially for students of technical education.
The officials of different banks and departments appraised the EC about various schemes like Prime Minister's Employment Generation Programme (PMEGP), Start-up India, Kissan Credit Card (KCC), Micro Units Development and Refinance Agency loans and other related schemes.
The officials also enlightened the public and the unemployed youth about various ITI trades, self employment schemes, the process of taking loans, eligibility criteria, procedure to avail and interest rates of the loans including the information that unemployed youth can get bank loans under Prime Minister's Employment Generation Programme (PMEGP) at upto 35% subsidy to start your own service and business.
Speaking on the occasion, EC Mohsin Ali urged the unemployed youth and ITI students to avail benefits from the bank loans and subsidy schemes. He further said that the students and current youth are fortunate that the government is providing awareness and benefits of subsidy schemes at their doorsteps and also assured to provide stalls of other departments which are necessary to sanction loans, adding he said concerned departments will also be directed to provide on-spot loans during the five day long mela.
CPO Abdul Hadi said that the Deputy Commissioner Kargil has instructed the banks to impart awareness for the first two days and sanction loans during the next three days of the mela, and accordingly the applicantion forms for loans will be submitted to the concerned departments. He further stressed the concerned departments and banks to take all requisite measures to achieve progress in terms of awareness and sanction of loans before the closing date where the CEC and DC Kargil are scheduled to visit the mela.
General Manager Industries Centre Iftikhar Naseem said that the District Industries Center (DIC) Kargil works for promotion of Micro, Small and Medium Enterprises and aims to promote small businesses for local and viable products. He further said that the DIC provides assistance in three phases that are pre-investment phase, investment phase and post-investment phase.
The GM DIC further informed that there are more than 42 schemes in different departments for promotion of small and local businesses. He stated that industrial estate is also being developed at Kargil, Drass and Zanskar, and further said that if ITI trained and skilled youth step into industries sector, it would be game changer for the district.
Speaking on the occasion, District Lead Bank Manager Tsering Angmo, representative of SBI Owais Chak and Superintendent ITI Kazim Ali imparted awareness to the students about various schemes, loans and subsidy policies that are aimed to foster technical education, industrial development and entrepreneurship.