KARGIL, NOVEMBER 15, 2021: The Department of Agriculture LAHDC Kargil organized One Day Awareness and Community Mobilization Programme for BDC Chairpersons, PRI members, MC Ward Members and farmers on different agricultural activities and schemes at Agriculture Conference Hall Kurbathang here today.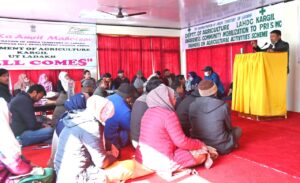 Additional Deputy Commissioner (ADC) Kargil Tsering Motup, Chief Agriculture Officer Kargil Kacho Muhammad Ali Khan, Cheif Horticulture Officer Kargil Ali Raza, Principal Scientist KVK Kargil Akhone Ghulam Mehdi, Vice President MC Kargil Gulzar Hussain, President District Panchayat Coordination Committee (DPCC) Issa Ali, BDC Chairpersons, MC Ward Members, PRI members besides concerned officers of Agriculture and allied department were present during the event.
Speaking on the occasion ADC Kargil Tsering Motup expressed gratitude to the Agriculture Department Kargil and public representatives for organizing the event and suggested the BDC Chairpersons and PRI members to work dedicatedly for public welfare and take up their issues and grievances vigorously with the concerned authorities and departments.
ADC Motup stressed that all PRI members and the the public should work unitedly in taking suitable measures for recieving proper benefits from all government sponsored schemes besides to strengthen agricultural practices in the district. He further assured that regarding the issue of funds at KVK Kargil, the matter willl be taken up with the UT Administration.
Earlier, Chief Agriculture Officer Kargil  Kacho Muhammad Ali Khan expressed gratitude to the PRI members and MC Ward Members for attending the programme and said that the purpose of the event is to get feedback from the public representatives about different agricultural schemes and services which he stated can help the department to draft strategies and innovations for future. He added that sustainable agriculture should be our mandate for the future generations and also stressed to achieve the feat of Organic Kargil by 2025.
The Chief Agriculture Officer Kargil also stressed the public representatives to monitor the quality of works under Agriculture and Command Area Development Department. He also advised them to work in close coordination with the Agriculture Department to achieve better results.
Principal Scientist KVK 1 Kargil Dr Ghulam Mehdi Akhone congratulated the Agriculture Department for organising the event and added that it assumes significance to held this event in collaboration with the PRI  members so as to solicit their feedback.
He stated that technology upscaling and regular feedback from farmers is necessary for progressive agriculture and based on the feedback and concerned factors,  scientists frame strategies and innovations.
Mehdi said that PRI members should help the concerned departments to get the necessary feedback regarding agricultural development and they must also get acquainted with the mandate and welfare schemes of different departments so that better welfare of farmers can be ensured. He also gave detailed information pertaining to different agricultural practices imparted by KVK Kargil and said that all possible assistance will be provided by the department.
The PRI members were informed about different agricultural schemes and services during the event. It was further informed that Agriculture Department Kargil has distributed 15689 Kissan Credit Cards besides among other achievements of the department 12980 beneficiaries have registered under PM Kissan Scheme.
Meanwhile, Chief Horticulture Officer Kargil Ali Raza and Command Area Officer Haji Issa briefed about the schemes and available resources in order to boost the Agriculture and Horticulture Sector.
President DPCC Issa Ali and Vice President MC Gulzar Hussain expressed thanks to the concerned officers for conducting the event while the BDC Chairpersons shared their views during the programme and requested to organises similar events at the block level as well.