Leh, Nov 15: Five district-level master trainers organised a one-day awareness workshop-cum-campaign on Electoral Literacy Club (ELC) for teachers of government schools at Paras Hall, Government Boys Higher Secondary School in Leh.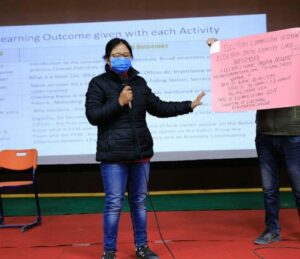 The main objective of the workshop is to engage school students through interesting activities and hands-on experience to apprise them of their electoral rights and familiarise them with the electoral process of registering their names and voting. Students of Class 9 till 12 are members of ELC as they would soon become eligible to cast their votes.
One of the main objectives of the Election Commission of India of establishing ELC is to prepare future voters.
The district-level master trainers imparted training and shared knowledge about Electoral Literacy Club to the nodal officers in the workshop.
The master trainers also informed the teachers that they can pass the information to students through classroom-based activities and games.
Speaking during the event, Assistant Electoral Registration Officer (AERO), Leh/ Tehsildar Leh stressed the need for organising special camps to encourage more people above 18 years to enroll their names in the electoral roll.
He appealed to the people to register their names in the electoral roll if he/she attains the age of 18 on 1st January, 2022. If any modification or changes are required in the name, address, date of birth, etch, then it would be done till 30th November.
He requested the nodal person to act as an ambassador to sensitise about it at their respective places and participate in the forthcoming special camp to be organised on 21st November.