KARGIL, NOVEMBER 14, 2021: Tehsil Legal Services Committee (TLSC) Drass organized a programme on drug abuse which was participated by students of Government Degree College (GDC) Drass and students of different educational institutions.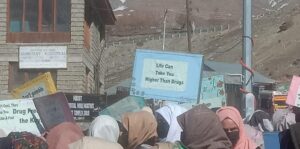 Chairman TLSC Drass Deldan Angmo Amgmo in her address stressed the young generations to stay away from all forms of drugs.
The programme was started by welcome speech by advocate Talib Hussain while Dr Muhammmad Amin representative of Block Medical Officer Drass enlightened the students about the ill effects of drugs and its bad consequences on health.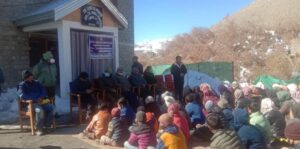 After that students along with all officers and officials marched towards Drass market chanting slogans like Say No to Drugs, Say Yes to Life, Life Can Take You Higher Than Drugs. The march later concluded at GDC Drass campus.
Meanwhile, an essay competition, painting competition and slogan competition were also held on the occasion to aware the general public about the health hazards of the substance abuse in the society.
The programme concluded with vote of thanks by Advocate Talib Hussain.