4th district Open Karate Championship 2022 concludes at Indoor Stadium Kargil
Kargil, August 18, 2022:
Kargil Karate Association (KKA) under the leadership of Sensai Hassan Khan, Member SGI, Founder of SGI Doju Kargil, in collaboration with the Department of Youth Services & Sports Kargil organized a 2-day 4th district level Open Karate Championship which concluded today at Indoor Stadium Kargil.
The closing ceremony of the 4th District Kargil Open Karate Championship was attended by Executive Councilor Health & Agriculture Mohsin Ali graced the function as chief guest. Shehan Namgyal Zochey President of Ladakh Karate Association was guest of honour.
EC Mohsin thanked KKA for their hard work and efforts to promote Karate in the district for the last twenty-two years.
The EC said that LAHDC Kargil is committed to promoting young talent and give them exposure. He assured full cooperation and support for KKA in the future and appreciated the talent of Karate Athletes.
Happy over the establishment of KKA in Kargil, Shehan Namgyal Zochey said the association has the capacity to organize district as well as State Level Championship in Ladakh.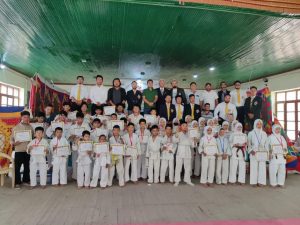 He also hailed the efforts of Sensai Hassan Khan for implementing Karate at the grass root level in the district. "The effort of Chief Instructor (Sensai Hassan Khan) will boost the talent of Karatekas and give opportunities to perform at state, national and international platforms," the LKS president said.
More than fifty students from different parts of Kargil district participated in the Championship for which they had been waiting after the COVID-19 pandemic.
In the championship, 36 Karatekas (both males and females) got selected for the State championship which will be held in Leh at the Union Territory level.