5-day free multi-specialty health camp concludes at Kurbathang
LAHDC Kargil hosts dinner party for doctors of Ashoka Mission
KARGI, OCTOBER 01 2022:
LAHDC Kargil on Friday hosted a dinner party for the doctors and super specialists of Ashoka Mission New Delhi on the concluding day of five-day free multi-specialty health camp held at Kurbathang.
Chairman/CEC, LAHDC Kargil, Feroz Ahmed Khan, Deputy Commissioner/CEO, LAHDC, Kargil Santosh Sukhadeve, CMO Kargil Dr Munawar Hussain Wazir, General Secretary Ashoka Mission New Delhi Tsering Motup, Nodal Officer of the medical camp Mohammad Hassan, doctors of Ashoka Mission and Kargil were present during the event.
Addressing the event, the CEC said it is overwhelming to witness such a multi-specialty health camp and it was successful considering the number of patients who attended OPD and surgeries that were held during the camp.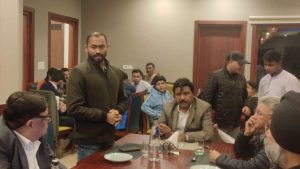 Khan thanked the team of doctors of Ashoka Mission for their dedication in making the multi-specialty camp successful. He also extended gratitude to District Administration, doctors and staff of Health Department Kargil for the smooth execution of the camp.
The CEC expressed hope that more such collaborations will happen with Ashoka Mission in coming time so as to provide best medical facilities to people of Kargil.
The free multi-specialty camp was organized by LAHDC Kargil in collaboration with Ashoka Mission.
On the occasion, DC Santosh said the administration will extend all possible support to those patients seeking advance treatment post the camp and expected optimism that such camps will be organized in future as well.
He also expressed gratitude to the team of doctors on behalf of the district administration for making the program successful.
The five-day free multi-specialty camp was held at 300 bedded hospital in Kurbathang during which 7620 patients were seen in OPDs, 413 Total Laboratory Tests were conducted, 320 X-ray, 630 USG, 101 ECG, 207 ECHO, 34 endoscopies, 25 CT scan, 5 fibre optic laryngoscopy, 01 Bronchoscopy, 01 Sigmiodocopy were. Five surgeries were conducted during the camp. Besides 74 patients were referred for higher medical examination and treatment.