Shargole/Kargil ,18th of May 2022.
The 11th session of tehsil lavel tennis cricket tournament organised by SMART ASSOCIATION shargole concludes at multipurpose stadium Shargole today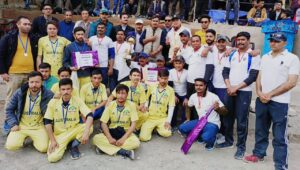 The tournament witnessed participating of 18 teams from various areas of tehsil Shargole.
The final match of the tournament was played between 55-RCC Greef and Dream 11 Drakith, in which 55 RCC won by 7 Wickets. Jessi of 55RCC adjudicated man of the match while as Anil Gerii of 55RCC was declared as man of the series on the occasion.
Councillor Shargole Mohd Ali Chandan was the Chief guest.
While as BDC Shargole Tsering Nurbu was the guest of honour and SDM Shakar Chiktan Mohd Sharif was the special guest.
Other prominent guest were , Sarpanch Shargole Mohd Hassan, SHO wakha Insp. Dorjey Gyalson, Principal GHSS Shargole, Nambardar and member Shargole sponsors of the tournament and many others attended the function.
Izhar Hussain President SMART association presented the welcome speech and put forth some demands
Chief guest Mohd Ali Chandan appreciated SMART Association Shargole for organizing such a big tournament and other works towards the society and assured to look into all the demands put forth by the association.
Chief guest Ali Chandan and other guests distributed the prizes in the closing ceremony of the tournment and announced a Rupees of 10 thousand to SMART Association and 5 thousand each to winner and Runner up team on the occassion.
A Trophy and cash award of Rs 7000 was presented to the winning team and aTrophy with Rs 4000 with medals was also presented to the runner up team.
Apart from this, many more rewards, medals and trophies were presented to the outstanding players, officials and members.
Sponsors of the tourney was RUHI Guest house and Restaurent Ando presented prize and Cash to Smart Association Shargole on the occasion.
Altaf Hussain vice president was performing anchoring role of during presentation ceremony and presented vote of thanks.