610 property cards under SVAMITVA scheme distributed in Khaltse sub-division
Leh, Oct 27: A total of 610 property cards under the SVAMITVA Scheme were distributed to the property owners in different villages of the Khaltse subdivision.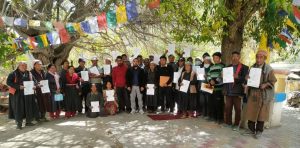 363 property cards were distributed at Dha village in a distribution camp organised by Tehsildar, Khaltse, Tanveer Ahmad along with Naib Tehsildar and Girdawar Quanoongo on October 26.
Meanwhile, a similar camp was also organised at Lehdo, Skindyang and Nurla villages of the Khaltse subdivision, where 247 property cards were distributed among the property owners under the SVAMITVA Scheme of the central government.