New Areas of Collaborations Explored at 'Sustainable Energy Infrastructure Conclave' Ladakh Chapter
Leh, Aug 26: The government-industry collaboration is the need of the hour to leverage technology and innovation for sustainable energy ecosystem development in Ladakh. This was discussed at length in the 'Sustainable Energy Infrastructure Conclave' here today.
The event was organised by APAC News Network and supported by Schneider Electric. Speaking in the inaugural session, Administrative Secretary Power & NRE UT Ladakh Ravinder Kumar, in his keynote address talked about various challenges and invited the industry to come forward to mitigate the challenges. 'We are committed to a green and sustainable energy supply in Ladakh,' said Ravinder Kumar.
Rajnath Ram, Advisor (Power & Energy) NITI Aayog, GoI also joined the inaugural session virtually as Special Guest. He said 'Ladakh is a mountainous area and difficult to connect with the rest of the country therefore interstate connectivity projects have been commissioned at a cost of Rs 1300 crore.'G Ahmed Mir, Chief Engineer of Power Development Division of Ladakh Administration stated that 'there are challenges of weather, difficult terrain in Ladakh for energy transmission.'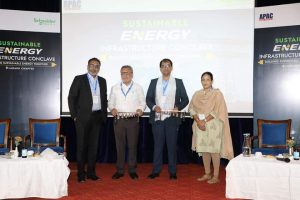 Faisal Masood, General Manager of Schneider Electric in his address highlighted how his organisation is helping states across India to build sustainable energy infrastructure by leveraging technology & innovation. 'Every network loss in the power distribution system accounts for an increase in carbon footprint. Data can be another asset and bringing all networks together into a common distribution platform provides other means of monetization too,' stated Faisal.
Other speakers of the conclave were Tsewang Paljor, Superintending Engineer, Distribution Circle Ladakh, Kunzes Dolma, Geothermal expert, Ladakh, Chosyin Dorjey, Project Director LREDA, Leh, Stanzin Dodjo, Technical Officer with Chief Engineer, Power Development Department, Ladakh, and Arunava Naha, General Manager, Schneider Electric.
Almost all of the speakers agreed that Ladakh needs unique technological solutions to address the challenges of the energy spectrum. The event was attended by delegates from the power department and PSUs such as Power Grid Corporation, NHPC, and NTPC.