AMFI organises investor awareness workshop at EJM College
Leh 26 August: Association of Mutual Funds in India (AMFI) and Commerce Department of Eliezer Joldan Memorial College, Leh organised an investor awareness workshop on 'Financial Empowerment through Wealth Creation'.
The workshop was inaugurated by Principal EJM College, Leh, Dr Sameena Iqbal.
During the occasion, Senior Consultant AMFI, Surya Kant Sharma who was keynote speaker threw light on the importance of financial security of individuals. He duly emphasized that an investor should first think and ensure adequate life insurance, reasonable medical insurance cover and an emergency fund before embarking upon the journey of wealth creation through sustained investments which is most essential for prosperity. He vehemently urged for regular savings and increase of savings every year minimum by 10%.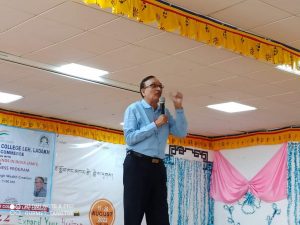 Furthermore, he dealt in detail on the need for wealth creation for prosperity and emphasized that investors should not be money accumulators but wealth creators.
He emphasized the need of practical financial planning for families for focused investment and also the need for practicing the rule of compounding in investments for higher return in the long run.
Moreover, he shared basic information on various investment avenues available in the market viz. Government/RBI bonds, corporate bonds, Government schemes (Post office schemes), PPF, NPS, Sukanya Samriddhi Scheme, securities market, real estate, gold and securities market, etc.
Sharma cautioned general investor not to enter into securities market directly as there are inherent risks in the market and unless the investor have sound knowledge of market, sectors, economy and international economy
Later, he alerted the participants not to invest their hard earned money on the advice of others including agents and never in unregulated fund mobilisation schemes – Ponzi scheme, chit funds and committees etc. – which give assurance for higher and quick return at the beginning but ultimately vanish with the hard earned money of investors.
During the event a question answer session was also held.
The program concluded with a vote of thanks by Program Coordinator, Manzoor Hussain who is also Assistant Professor, Commerce.