ADC Leh convenes meeting regarding NDA & NA Exams (II) 2022 and CDS Examination (II) 2022
Leh, Sept 03: The Additional Deputy Commissioner (ADC), Leh, Sonam Chosjor chaired a meeting with the concerned officers and stakeholders regarding National Defence Academy (NDA) and Naval Academy Examination (II)2022 and CDS Examination (II) 2022 scheduled to be held on Sunday, September 04 in Leh.
In the meeting, ADC Leh apprised all the exam functionaries including the Local Inspecting Officers, Assistant Coordinating Officer, Venue Supervisors, Assistant Venue Supervisors and the Invigilators about the instructions that should be observed strictly at the exam venue during and after the examination.
He instructed the venue supervisor to ensure that all the exam instructions are followed. He added that required manpower, including magisterial officers and police, are also deployed at all the examination venues for the smooth conduct of the examination and also stressed to maintain the Scannable Attendance List (SAL) properly.
ADC Leh also briefed about timeline and schedule of the papers, Covid-19 related instructions and other important aspects.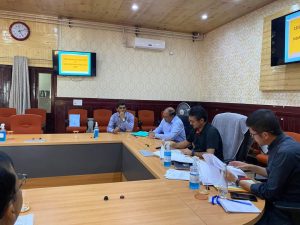 As informed, there are two exam sub centres viz. EJM College and Govt. Boys Higher Secondary School, Leh with designated Venue Supervisors, Local Inspecting Officers, Assistant Venue Supervisors and Invigilators.
The Deputy Secretary, UPSC instructed the venue supervisors and other concerned officers to ensure to consult with the control room established at the district level and the UPSC level regarding any issues.
NDA and CDS examinations are conducted by the Union Public Service Commission (UPSC).
Principal EJM College, Leh; Sr Superintendent of Post offices, Ladakh; Dy Superintendent of Police HQ,Leh; Deputy Director Employment,Leh; Deputy Registrar, Cooperative, Leh; Assistant Secretary, JKBOSE, Leh; Principal Boys Hr Secondary, Leh; Naib Tehsildar, Settlement Leh; Naib Tehsildar Basgo, all Assistant Venue Supervisors and all Invigilators attended the meeting.