ICDS Project Kargil kick-starts Rashtriya POSHAN Maah 2022
KARGIL, SEPTEMBER 03, 2022:
The ICDS Project Kargil today kick-started Rashtriya POSHAN Maah 2022 in Kargil with the flag off of the POSHAN Rally at Sharah Poyen by Imteeaz Kacho Joint Director Information UT Ladakh and District project Officer ICDS Kargil.
Ward Member, MC for Poyen Shabir Hussain Khachey, the CDPO Kargil, Parveen Akhtar along with all staff members and Anganwadi Workers participated in the rally.
The rally was aimed to disseminate awareness among people about the importance of right nutrition with the slogan of POSHAN Abhiyaan "Sahi POSHAN, "Desh Roshan".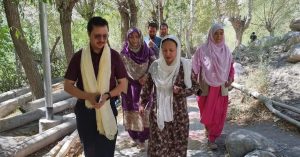 Imteeaz Kacho apprised the participants about the significance of Rashtriya POSHAN Maah and the activities planned to be held during the POSHAN Maah including health camps, anaemia detection camps, screening camps, awareness programs, yoga sessions, check-ups of pregnant and lactating women, identification of malnourished children, diet counselling sessions etc. with the participation of convergent departments, PRIs and local bodies' members, public representatives and people in general.
He appreciated the CDPO ICDS Kargil, Supervisors and Workers for their efforts in taking the benefits of the scheme at the doorsteps of people which is the motive of the Government.
The objective of the program is to ensure maximum public participation (Jan Bhagidari) to realize the goal of POSHAN Abhiyaan as Jan Andolan.
The Ministry of Women and Child Development is celebrating the 5th Rashtriya Poshan Maah 2022 from September 01 to 30, 2022 as part of the POSHAN Abhiyaan. The Central Theme of Poshan Maah 2022 is "Mahila aur Swasthya" and "Bacha aur Shiksha".