Advisor Ladakh chairs review meeting for making various G2B & G2C services online
Leh, December 29: Advisor Ladakh, Umang Narula chaired a meeting to review the identification of digital services for making various Government to Citizen (G2C) and Government to Business (G2B) services online. G2B and G2C are types of interaction in e-Governance.
Advisor Narula gave directions to the concerned officials to identify the list of offline services to citizens, businesses, and government that can be made online for their respective departments and identify and intimate IT Department about existing online services which can be integrated with the e-Seva Ladakh Portal to provide one-stop service access to the citizens of UT Ladakh (One Portal for all Online Services). Further, Advisor Narula instructed the officials to expedite the assignment of Nodal Officers for all departments to oversee the requirements and assist wherever required. The Advisor also instructed to publicize the e-Seva Ladakh Portal for the information and ease of public. He stressed for interdepartmental synergy to successfully maintain and upload all services in due course of time.
In this regard, Principal Secretary, Information Technology Department, Ladakh, Sanjeev Khirwar gave a detailed presentation on the various modules of Digital Service Delivery Viz. National e-Governance Service Delivery assessment; mandatory service list and description of services for various departments; e-seva Ladakh; new services proposed for the e-governance; features of e-Seva online service and requirements from other departments.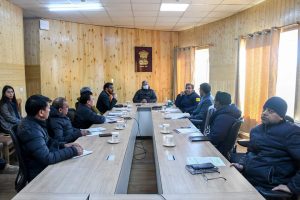 Principal Secretary, Khirwar informed that National e-Governance Service Delivery Assessment (NeSDA) is an initiative by the Department of Administrative Reforms and Public Grievances (DARPG), Gol to measure the depth and effectiveness of existing e-Governance service delivery mechanisms in India at a state/UT level. He added that a total of 56 mandatory services are assessed for every State & UT in seven sectors to benchmark service delivery across the State and UTs.
Advisor Narula reiterated the objectives of e-governance which are to provide better service delivery to citizens; ushering in transparency and accountability; empowering people through information; improve efficiency within Government i.e between centre-state or inter-states and improve the interface with business and industry. In this regard, he instructed the officials to conduct review meetings regularly to assess the progress of all departments to achieve the objectives.
The meeting was attended by all Administrative Secretaries; staff of IT Department, Ladakh, and other concerned officials.