Ashura observes in Kargil with religious fervour
KARGIL 09, AUGUST:
Youm-e-Ashura was observed today with reverence and religious fervour throughout Kargil Ladakh region to pay tributes to Hazrat Imam Hussain (AS), the grandson of Prophet Muhammad (SAW), and his companions for their supreme sacrifice in Karbala.
Thousands of people gathered in Kargil town to commemorate the Ashura e Hussaini. These processions were organised by Anjuman e Jamiatul Ulama Isna Ashariya and Imam Khomeini Memorial Trust Kargil. People were beating their chests and reciting lamentations on Imam Hussain and his companion who gave their sacrifice for the sake of Islam in the desert in Karbala.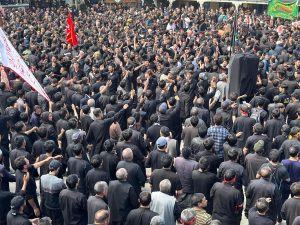 During the azadari (mourning) procession people were chanting anti US, Israel and Saudi slogans and expressing their solidarity with the people of Yemen, Bahrain and Syria.
Similar processions were taken out in Drass, Tai-Suru, Sankoo and Leh during which thousands commemorated the martyrdom of the grandson of the prophet Muhammad (S.A.W)