EC Tashi inaugurates modern community hall at Zanskar
KARGIL, AUGUST 09, 2022:
Executive Councilor Tourism, RD and Zanskar Affairs, Er Punchok Tashi today inaugurated and dedicated the first-ever modern multipurpose community hall having facilities of kitchen, store and guest room for the people of village Ufti Zanskar.
The multipurpose hall was constructed under the District Capex budget at a cost of Rs 50 lakhs. The villagers of Ufti headed by Sarpanch Lobzang Dolma thanked the EC and District Administration for making the hall functional.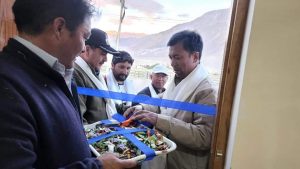 Later, the EC visited Ubarak village of Zanskar to inspect flood-affected areas. He was accompanied by SDM Zanskar Sonam Dorjay, BDO Zanskar and engineers of Rural Development and Panchayat Raj Department.
EC Tashi directed SDM, BDO Zanskar to restore the required irrigation khuls and roads. He also directed to construct a temporary footbridge on Nallah between Ubarak and Rakzam.
Later, the EC along with BDO Zanskar visited the site proposed for cremation ground for the general public at Munskit Chumik. He directed the Rural Development Department to construct the compound wall and other required facilities demarcated by the Revenue Department for the ground.