Awareness camp on elimination of Gender-Based Violence held in Singaylalok block
Leh Dec 09: A block-level awareness camp on Elimination of Gender Based Violence as a part of the National Gender Campaign was organised at Singaylalok block, today.
The camp was organised under the supervision of Sub-Divisional Magistrate (SDM) Khaltse and Nodal Officer/BDO, khaltse.
Women Alliance President Wanla, Yangchen Dolma was present as the Chief Guest.
During the programme Block Development Officer(BDO) Singaylalok, Varinder Bawa and officers from different departments briefed about the prevalence of Gender-Based Violence, legal remedies and mechanism available to the victims.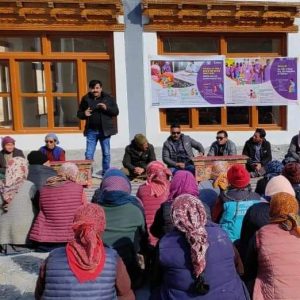 They also raised awareness about the various welfare Schemes available for women and girl children along with the importance of health, hygiene and nutritional values for pregnant and lactating mothers and children.
Nambardar Wanla and Naib Sarpanch Wanla also spoke on Gender-based violence.
Block Development Officer, Singaylalok; Child Development Project Officer Khaltsi; Assistant Sub-Inspector, Police Post khaltsi; Incharge Headmaster Govt. High school Wanla; Health department CHO Wanla; Education department Officials; Supervisor ICDS khaltse; Officials from Rural department Khaltse; Sarpanches; Nambardar; Panches; Ama Tsogpas and large number of villagers from Singaylalok Block were present.