CEC Feroz Khan attends conference on International Anti-Corruption Day
Kargil, Dec 09, 2022: Chairman/CEC, LAHDC, Kargil Feroz Ahmed Khan today attended a day-long conference on International Anti-Corruption Day 2022 at Conference Hall Baroo, organized by Youth Action Committee Kargil, themed 'how to eradicate the menace of corruption.'
Executive Councilor Health Mohsin Ali, poet and social activist Muhammad Yaseen Ansari, representatives of various religious organizations, civil society members, teachers and students from various schools attended the conference.
While speaking on the occasion, the CEC congratulated the organizers for organizing the conference to impart awareness among people against corruption adding that it is a real hindrance to the growth and progress of society.
Khan said there is a need to make improvements in the system in uprooting corruption. He also said people should be informed and report complaints against any sort of corruption.
He urged people to exercise their rights provided by the Constitution of India and raise their voice against corruption in society.
The CEC said that the only way forward to stop the menace of corruption is collective efforts by all stakeholders and to make the government responsible for development and progress.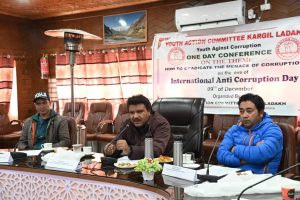 Khan stressed on students to play their role in eradicating corruption as they are the future of the nation.
He also said LAHDC Kargil is fully committed to deliver fair governance to the people of Kargil and the commitment would not be compromised at any level. The CEC also stressed the students to make their parents and neighbours aware of the laws against corruption.
While replying to the recommendations put forth by the Youth Action Committee about the slogans or banners on government offices and public places to aware public to which he assured that a circular will be issued in this regard soon.
On the occasion EC, Mohsin appreciated the Youth Action Committee Kargil for organizing such events. He said it is difficult to uproot the menace of corruption from society but it is not impossible.
The EC said that society should be united to fight corruption. He also said that eradicating corruption should not be confined to conferences and seminars.
President Youth Action Committee Kargil, Muhammad Hussain presented vote of thanks to all the participants. Earlier, student representatives from various religious and civil society organizations delivered lectures on the topic and highlighted the ill effects of corruption.
Poet Muhammad Yaseen Ansari through his poetry highlighted the ill effects of corruption.