Sowa-rigpa participates in 9th World Ayurveda Congress and Arogya Expo 2022 inaugurated in Goa
Leh, Dec 09:The National Institute of Sowa-Rigpa, Leh is participates in the 9th World Ayurveda Congress & Arogya Expo 2022 is organized at Panjim,Goa from 8 to 11 December 2022.
The four-day event was inaugurated by Chief Minister Dr Pramod Sawant and Secretary, Ministry of Ayush, Vaidya Rajesh Kotecha yesterday at Kala Academy, Panaji Goa.
The Arogya Expo is set to witness the participation from, more than 215 companies, leading Ayurveda brands, medicine manufacturers, and Ayush-related educational and Research & Development Institutions.
The National Institute of Sowa-Rigpa has set up an exhibition on the Sowa-Rigpa system of medicine and the Sowa-Rigpa clinic with free Sowa-Rigpa medicine. The main objective of participation is to spread information and propagate Sowa-Rigpa on National and International platforms.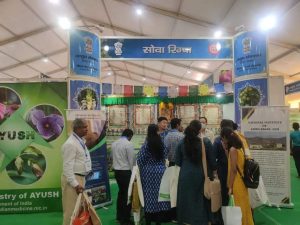 The visitors are showing keen interest to know about Sowa-Rigpa Hon'ble Prime Minister Narendra Modi is scheduled to attend the valedictory function of the World Ayurveda Congress on 11 December 2022.