BDC Chairperson Sodh calls on LG Ladakh at Raj Niwas
Kargil, Dec 21, 2022: Block Development Council (BDC) Chairperson Sodh, Zakir Hussain on Tuesday called on the Lieutenant Governor (LG) of Ladakh, RK Mathur at Raj Niwas and presented a memorandum of demands regarding Sodh block.
Zakir Hussain apprised the LG about various developmental issues of Sodh block and requested for a relief package for the drought-hit region.
The BDC said the whole region depends on irrigation and agriculture productivity solely depends on water of glaciers. He requested the LG to provide a relief and recovery package as assistance to the drought-hit region so that farmers have sigh of relief.
The BDC also requested subdivision status for Sodh and said it is a long pending demand of people as the block is among the largest blocks area wise, and constitutes 12 villages and 10 Panchayats with a population of 17000.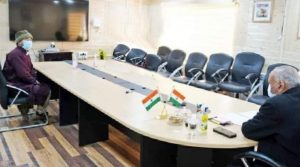 As the block is situated at a long distance from Kargil Headquarters and people face many difficulties. The BDC requested the LG to consider divisional status to the block which will end the difficulties of people.
He also requested the LG for his intervention regarding under construction Kargil-Dumgil road as its progress has been halted due to many reasons.
The BDC added that people are facing difficulties while skilled and unskilled labourers engaged in construction of the road haven't received their dues.