CDPO Shargole chairs meeting regarding merging of Anganwadi centres
KARGIL, NOVEMBER 03: To ensure better delivering of services and easier accessibility to everyone Child Development Project Officer, Shargole Farida Batool today chaired a meeting with Sarpanch's of Shargole block and staff members regarding merging of Anganwadi centres into pre-primary and primary schools.
A threadbare discussion was held whereas Sarpanch's put forth their suggestion and assured to take up the same initiative with their concerned school faculty members.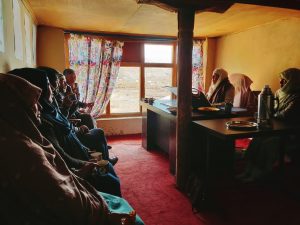 Besides several other issues were discussed to which the CDPO, Shargole assured to take up with the concerned authorities.
The meeting was attended by Sarpanch Pashkum A,B, Lotsum,Skamboo,Tacha,Karamba,
Shargole,Wakha and Mulbekh.