KARGIL, NOVEMBER 10, 2021: In order to finalize the expenditure on account of the installation of central heating system and officewise separate electric meters at Council Secretariat Kurbathang, Chairman and Chief Executive Councilor, LAHDC, Kargil Feroz Ahmed Khan convened a meeting of the concerned officers here today.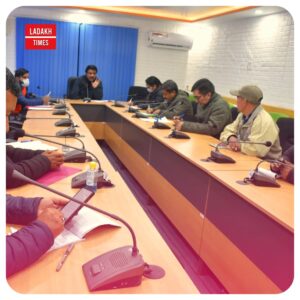 Director Tourism Ladakh Kunzes Angmo, Director School Education Ladakh Safdar Ali, Assistant Commissioner Development Kargil, Chief Controller of Finance LAHDC Kargil, Executive Engineers of PDD, PHE, R&B-II besides other concerned officers attended the meeting.
Detailed discussions and deliberations were held on different aspects and feasibility of electric meter installations and expenditure of central heating system and electricity bills.
CEC Feroz Khan directed the concerned officers to install seperate officewise electricity meters at the Council Secretariat and Council Residential Quarters at the earliest possible.
CEC Khan further said that the amount of expenditure on central heating system operations and electricity bills of the  departments shall be borne by the respective departments out of their own funds. He also said that for the next year, the departments should keep separate provision of funds and reflect the same in the budget.