KARGIL, NOVEMBER 09, 2021: Ladakh Taekwondo Association (LTA) under the aegis of India Taekwondo today organized 1st UT Ladakh Taekwondo Championship at Indoor Stadium Kargil which was inaugurated by the Executive Councilor for Works Aga Syed Abbas Razvi.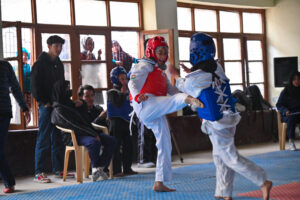 The EC was the chief guest on the occasion while Former Executive Councillor and Councilor Shargole Muhammad Ali Chandan was the guest of honor while Muhammad Ramzan Khan, President Leh Taekwondo Association was the special guest.
Others who were present on the occasion included President LTA Gulzar Hussain Munshi, General Secretary LTA Anayat Ali Shotopa, General Secretary District Kargil Olympic Association Syed Mehrajuddin Shah, In-charge Sports Authority of India Training Centre Kargil Ghulam Mustafa, executive body members of LTA, parents and players.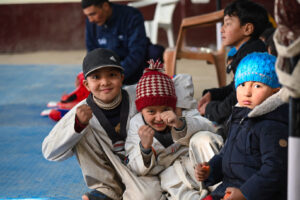 In his address, EC Syed Abbas Razvi congratulated LDA for their efforts in promoting Taekwondo in Ladakh and enhancing the proficiency of local players in this game which has brought laurels to Ladakh at the international level.
The EC Works said that the LAHDC Kargil is fully committed to promote the talent of youth in the district and give them the right guidance and exposure. He appealed the players to focus on one goal and put more efforts into the particular talent they have.
Councilor Shargole Muhammad Ali Chandan while speaking on the occasion expressed gratitude to LTA for their contribution in the promotion of Taekwondo in Ladakh.
Expressing happiness over the establishment of a Taekwondo association at Shargole recently, Chandan said that the association is doing well, adding he urged the association to bring more youth towards Taekwondo.
Gulzar Hussain Munshi, President Ladakh Taekwondo Association said this is for the first time that LTA is organizing a state championship and preparing players for nationals and other tournaments after Ladakh got UT status. He added that so far 6 players from Ladakh have participated in Taekwondo events at the international level and hundreds at the national level.
Pertinently, a total of 232 players of different associations from different parts of Ladakh are participating in the 1st state championship which is scheduled to culminate on 11th November, 2021.