Health and Family Welfare Department Kargil organized a health camp/awareness programme for medical students at Auditorium Hall Kargil here today.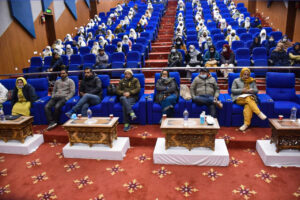 The event was organized on the theme "UHND cum T3 Camp (Testing, Treatment and Talk) under Anaemia Mukt Bharat Programme".
A camp was also organized on the theme- Har Ghar Dastak to boost the second dose of COVID-19 Vaccination.
On the occasion, Deputy Chief Medical Officer Kargil Dr Muhammad Abass, Block Medical Officer Kargil Dr Fatima Nissa, RMO District Hospital Kargil Dr Shabir Hussain, doctors and paramedical staff besides the  students of GNM and Sanjeevani School of Nursing were present on the occasion.
The speakers gave detailed presentations on anaemia, COVID-19 and HIV AIDS.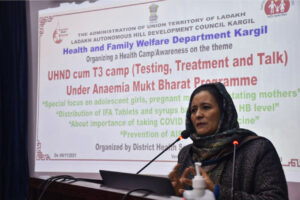 Speaking on the occasion, BMO Dr Fatima Nissa urged the left out people to take the second dose of the COVID-19 Vaccine to  ensure their safety against the Coronavirus, adding she said that the vaccine is completely safe. She also urged people to take necessary precautionary measures and follow Covid Appropriate Behavior in letter and spirit.
Dr Bilquees Fatima gave a detailed presentation on Anaemia, its causes, symptoms, prevention etc while the Deputy CMO Dr Muhammad Abass while informing about Anaemia urged the medical students to enlighten them and create awareness among the public about the disease.He informed the audience about Anaemia and its causes in pregnant ladies, adolescent girls and old-aged people and also shared his clinical experience about deficiency of iron in the human body.
Dr Khalid gave a detailed presentation on COVID-19 vaccination and myths associated with the vaccine. He urged people to get vaccinated as soon as possible while Dental Surgeon Dr Muneer Ahmad informed the public about HIV AIDS, causes of its spread, symptoms and preventive measures.
RMO Dr Shabbir Hussain presented the vote of thanks at the end.
Meanwhile, a group of paramedical staff conducted a COVID-19 Vaccination Camp at the Auditorium Hall Kargil where students were administered the COVID-19 vaccine.