CEC Feroz Khan, EC, DC visit AJUIAK, IKMT premises, review arrangements for Ashura
KARGIL, AUGUST 08, 2022:
Chairman and Chief Executive Councilor (CEC), LAHDC, Kargil Feroz Ahmad Khan today visited Anjuman-e-Jamiat ul Ulema Isna Ashariya Kargil (AJUIAK) premises, Imam Khomeini Memorial Trust (IKMT) premises, Hussaini Park, and Qatilgah to take stock of arrangements being made for Ashura processions to be held in Kargil Town.
The CEC was accompanied by Executive Councillor, Aga Syed Mehdi Fazili, Deputy Commissioner and CEO, LAHDC, Kargil Santosh Sukhadeve, SSP Kargil Anayat Ali Choudhary, ACR Abdul Ghaffar Zargar, ASP, DSP, SE Hydraulics, District Treasury Officer, Executive Engineer R&B, Chief Horticulture Officer, Executive Officer Municipal Committee, District Traffic Inspector and other District Officers.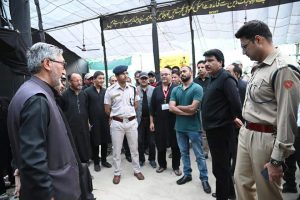 Vice President AJUIAK, Sheikh Ghulam Ali and Vice Chairman IKMT Sheikh Bashir Shakir, received the delegation at their respective premises and appraised the officers about various arrangements being made for Ashura.
The religious institutions also thanked the District Administration for making elaborate arrangements for the Ashura and for Moharram congregations.
The CEC while expressing satisfaction over the arrangements, directed to ensure cleanliness in and around the AJUIAK premises, Hussaini Park, Qatilgah and all Imam Baras besides ensuring sanitation of roads from where processions will pass.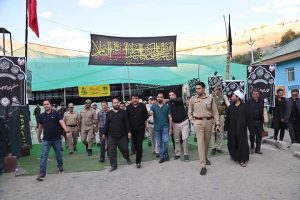 CEC Khan also directed the police to ensure proper security and traffic management during the day. The PHE, Health and Power Development Department were directed to ensure proper arrangements for adequate healthcare facilities, drinking water and uninterrupted power supply facilities. The officers also visited the medical camps arranged by the Health Department at various locations.
The CEC also called for close coordination between the religious organizations and the concerned departments so that all possible service delivery can be ensured to people during the observance of Ashura-e-Hussaini.