KARGIL, NOVEMBER 11, 2021: Chairman and Chief Executive Councilor,LAHDC, Kargil Feroz Ahmad Khan in presence of eminent Buddhist scholar His Eminence Bakula Rangdol Nima Rinpochay and Additional Deputy Commissioner Kargil Tsering Motup inaugurated the traditional religious gate (Rigsum Gonbo Gate) at Sanachay village of Aryan Valley here today.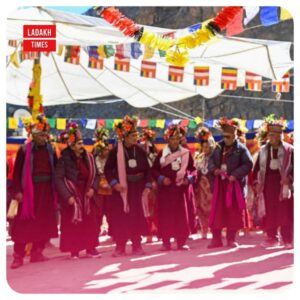 CEC Feroz Khan inaugurates traditional religious gate at Sanachay Village
Assistant Director Information Muhammad Ali Tak, Advisor Aryan Buddhist Association (ABA) Dr Sonam Paldan, Sarpanchs, Panchs, Nambradars besides the villagers from Darchiks, Garkone, Sanachay, Hordass, Gagardo and adjoining villages were present on the occasion.
The Rigsum Gonbo Gate has been constructed out of the personal donation amount from the CEC Kargil and the villagers of Sanachay and adjoining villages inhabited by the people of the Aryan community.
Addressing the local people during a function held at Government Middle School Sanachay, CEC Feroz Khan congratulated them for inauguration of the gate by the august hands of His Eminence Bakula Rangdol Nima Rinpochay. He also hailed the people who have made personal donations also lauded the efforts of others who have made great efforts in making the Rigsum Gonbo Gate a reality.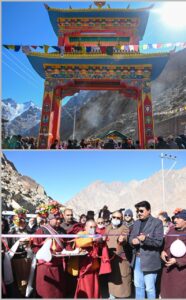 CEC Khan said that the Rigsum Gonbo Gate should emerge as a symbol of peace, brotherhood and communal harmony between religions which the Aryan Valley has cherished for centuries. He emphasized that the ancestral values of religious tolerance, peace and brotherhood which the forefathers have propagated and preserved should be further promoted in the present era and passed on to the posterity in their true essence.
Underlining the importance of education for enlightenment, progress and prosperity of societies, the CEC exhorted upon parents to be conscious about the importing education to their children so that they serve the community in future. He also assured the locals that funds for repairing and blacktopping of the road from the religious gate to Sanachay village will be kept in next year's budget.
His Eminence Bakula Rangdol Nima Rinpochay in his address underlined the importance of following the religious teachings in letter and spirit which are a guiding light to bring peace, harmony and sustainability in the world. He also stressed on strengthening the age old tradition of peaceful co-existence and communal harmony which he stated is the key to a progressive and prosperous community.
His Eminence Bakula Rangdol Nima Rinpochay also urged the Aryan people to take pride in their culture and traditions which have a distinction of their own worldover and also make collective efforts to sustain and promote this rich heritage. He also spoke about the importance of the preservation of language and stressed on enlightenment of the younger generation through education.
ADC Kargil Tsering Motup and Advisor ABA Dr Sonam Paldan also spoke on the occasion.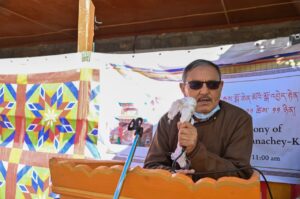 Meanwhile, the folk artists from Sanachay and adjoining villages and children of Government Middle School Sanachay presented colorful cultural programmes which mesmerized the audience.