CEC Feroz Khan reviews snow clearance measures, restoration of essential services
Kargil, Feb 10, 2023: Chairman/CEC, LAHDC, Kargil Feroz Ahmad Khan today chaired an emergency meeting following heavy snowfall for snow clearance measures and immediate restoration of essential services in the district.
Additional Deputy Commissioner Kargil, Ghulam Mohi-Ud-In Wani, Executive Officer, Municipal Committee, Kargil, CMO, Kargil, Dy SP Headquarter, Executive Engineers of Mechanical, PDD, PHE, Official of Border Road Organisation (BRO) 55RCC, beside other officers and officials attended the meeting.
The meeting discussed in detail various issues related to snow clearance measures in the district. The CEC directed the concerned officers for the early restoration of essential services in town and other adjacent areas.
In view of Youmullah celebrations in Kargil, the CEC directed the concerned officers for early clearance of snow in the main market and at the venue. Khan directed the MC Kargil to throw Baroo-MES road open for the public convenience.
The officers informed the CEC that men and machinery have been deployed in all areas and snow clearance measures have been taken up on priority.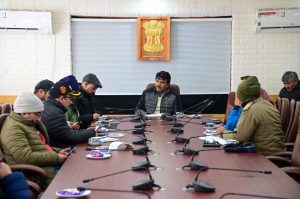 The CEC directed all concerned that the requisite manpower and machinery should be kept on standby mode on all major as well as internal link roads.
He also directed the ADC argil that all the SDMs should be stationed at their respective areas in order to closely monitor the situation in the interest of general public.
Khan also directed the officers to ensure proper facilities of medical, electricity, drinking water to people and also directed setup a control room at Sub Division level for public convenience.
He also directed the BRO for clearance of road in civil populated areas. The CEC also directed the Police Department to restrict vehicular movement in avalanche-prone areas.
During the meeting, it was informed that men and machineries are already deployed for snow clearance at Drass, Panikhar, Sodh, Pashkum, Shakar Chiktan, Sankoo, Parkachik, Tangole, Tai Suru, Padum, Batalik area and other areas.
CEC also asked for wider publicity of 108 and 112 helpline numbers through Radio and other mediums for the convenience of general people.