Ladakh Tourism Pavilion draws huge response at SATTE, 2023
Delhi, February 12, 2023: The Ladakh Tourism Department Pavilion, which was aesthetically designed to depict the rich cultural heritage and stunning landscape of the UT, attracted overwhelming response from national and international travel trade fraternity and other visitors during the three-day South Asia's Travel and Tourism Exchange (SATTE), which concluded at the India Expo Mart, Greater Noida-NCR on Saturday.
As part of its tourism promotion measures, Ladakh Tourism department with its official delegation and about 40 co-exhibitors participated in the travel extravaganza. The Ladakh pavilion drew thousands of tourists, holidaymakers, travel trade buyers and tour organizing professionals, who showed keen interest to experience the challenging geography and unique culture of the region.
Hundreds of travel trade fraternity members from Delhi, Haryana, Uttar Pradesh, Madhya Pradesh, Uttarakhand, Himachal Pradesh, Gujarat, Maharashtra, Odisha, Karnataka, Kerala, Tamil Nadu, other states and UTs and many foreign countries visited the Ladakh Pavilion and interacted with the members of the official delegation and co-exhibitors from the UT.
The interactions inter-alia included detailed presentations, various short films on known and off-beat destinations of Ladakh and discussions on sustainable inbound & outbound travel.
The official delegation representing the Tourism Department included Secretary(Tourism), Kacho Mehboob Ali Khan; Director(Tourism), Kunzes Angmo; Assistant Director(Tourism), Leh, Tsering Spalzes; Under Secretary/OSD Muhammad Ali Tak; Assistant Tourist Officer, Tashi Tundup and Ghulam Rasool Lal.
On the side-lines of the travel trade expo, Secretary(Tourism), Kacho Mehboob Ali Khan also participated in a panel discussion on the theme "India Tourism@75" and shared the UT Administration's vision for making Ladakh a round the year sustainable and eco-friendly tourism destination.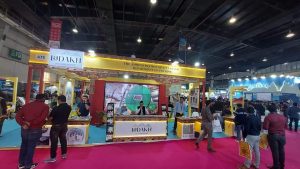 Meanwhile, the Tourism Department also distributed collaterals depicting the tourist attractions, unique culture, landscape, cuisine and other aspects of Ladakh. Promotional films on various themes were also screened before the visitors who were mesmerized by the unique culture, landscape and other diverse tourism products of Ladakh.
Pertinently, SATTE is recognized as Asia's leading travel and tourism exhibition to conduct business, share knowledge and exchange ideas in order to arrive at solution-driven innovations to accelerate the pace of growth of the tourism industry and offers a comprehensive platform to domestic and international buyers and professionals from across the travel, tourism and hospitality industry as well as national and state tourism boards.
The Tourism Department, UT Ladakh is making all efforts to give the tourism stakeholders from Ladakh all possible exposure within the country and abroad. SATTE being a big travel mart provided an appropriate forum at the national and international level for promoting Ladakh as a 12-month tourist destination and also gives an opportunity to conduct B2B, B2C, B2G and G2G interactions, which help in establishing fruitful business relationships and at the same time spread information about hitherto unknown tourist destinations within the UT of Ladakh.