CEC launches Nikshay Mitra initiative for TB patients
Kargil, Nov 21, 2022: Chairman/CEC, LAHDC, Kargil, Feroz Ahmed Khan today launched Nikshay Mitra, a Community Support initiative for TB Patients under Pradhan Mantri TB Mukt Bharat Abhiyaan at Conference Hall Kargil.
Executive Councilor Health Mohsin Ali, Deputy Commissioner/CEO, LAHDC, Kargil Santosh Sukhadeve, Chief Controller Finance, LAHDC, Kargil Iftikhar Hussain, CMO Dr. Munawar Hussain Wazir, Medical Superintendent Dr. Kacho Liaqat Ali Khan, District Tuberculosis Officer Dr. Fatima Banoo, President Baqria Health Care and Research Wing and Al Reza Health Care and Research Foundation, Cluster Head J&K Bank, donors associated with various organizations were present during the felicitation ceremony.
On the occasion, the CEC congratulated the donors for getting associated with the noble cause to provide essential nutrition and medicines for TB patients. He said that efforts from all concerned stakeholders should be taken to make Ladakh TB-free before the national target of 2025.
Khan said that the stigma associated with disease needs to be eradicated and the community has to play its part. He adopted four patients under Nikshya Mitra.
The CEC said he will request Councilors associated with LAHDC Kargil to be part of this noble campaign and assured that any required assistance will be provided by the council for holding camps and monitoring as well.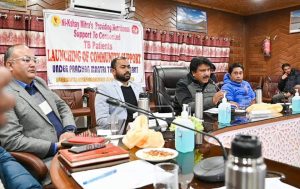 EC Mohsin Ali while sharing his views expressed happiness over the participation of donors, volunteers and concerned departments in the eradication of TB from Kargil.
He expressed hope that the way polio was eradicated from the country, TB also will be defeated. He further requested religious and social organizations to be part of this campaign in the eradication of TB from the district.
On the occasion, DC Kargil said more participation at the community level is needed by registering themselves as Nikshya Mitras and in this regard, directions forwarded to Banks must comply at the earliest.
DC Santosh said TB affects people mostly from underprivileged sections of society, therefore necessary nutrition and medicine is essential to eradicate the disease. He said, "If we have to become a successful nation then eradication of TB is necessary."
During the event DTO, Dr. Fatima Bano presented a presentation on various initiatives taken to deal with TB in Kargil.
Further, representatives of health organizations, Baqria and Al Reza and various donors expressed their views on the occasion.
During the event, various individuals and organizations registered themselves as Nikshya Mitras to extend their support to TB patients in various blocks of Kargil.
Earlier, CMO Kargil Dr. Munawar Hussain Wazir, presented welcome address and Dr Bilquis Fatima presented vote of thanks. On the occasion, the donors were felicitated with certificates and traditional Khataks by the dignitaries.