UTDRF organises training/mock drill at Khaltse sub-division
Leh, Nov 21: UT Disaster Response Force (UTDRF) team headed by UTDRF, Deputy Superintendent Police (DySP), Leh, Sonam Dorjay conducted a training programme/mock drill regarding disaster preparedness at sub-division Khaltse.
During the training/mock drill, the UT-DRF team briefed the participants about the procedure and process for conducting Search and Rescue Operations during a disaster, including medical aid, CPR, CSSR and the measures to mitigate any disastrous effect.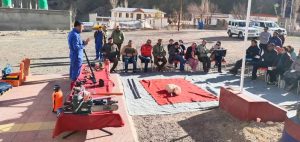 Incharge Tehsildar Khaltse, Mohd Yousuf; Block Medical Officer (BMO) Khaltse, Dr Chamba Laskit; Block Veterinary Officer, Khaltse, Dr Seraj-u-Din; Incharge Police Post Khaltse, Ghulam Rasool and other concerned officers/officials of various departments of sub-division Khaltse participated in the training.