Chairman BDC Sodh conducts Social Audit Gram Sabha on JJM at Gram Panchayat Akchamal, Tumail
KARGIL, NOV 09, 2022: Chairman Block Development Council (BDC) Sodh Zakir Hussain, Block Development Officer Mukhtar Hussain, today conducted a Social Audit Gram Sabha on Jal Jeevan Mission Har Gar Jal scheme at Gram Panchayat Akchamal and Tumail.
Along with Village Water and Sanitation Committee (VWSC), AEE Mohd Abdullah, JEE PHE Department, Sarpanch, Panch, Implementing Support Agency, third party inspection agency and the public of villagers were present.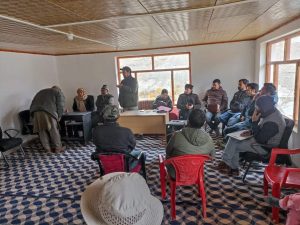 After discussion with all Sarpanch, Panch and PHE Department, it was asked to give more tenders for the remaining works and it was further instructed that JJM work be done expeditiously.
While instructing all Sarpanches and Panches, the BDC said, "We have to make this scheme successful by giving water to every household."