Composite Regional Centre organizes 2-day assessment-cum-distribution camp in Kargil
Kargil, October 14, 2022:
Composite Regional Centre organized a two-day assessment-cum-distribution camp under Assistance under the Central Scheme of Assistance to Disabled Persons for purchase/fitting of aids/appliances (ADIP) scheme, Union Ministry of Social Justice in collaboration with Social Welfare Department, Kargil at Cultural Academy Hall, Kargil.
The program was inaugurated by District Social Welfare Officer, Aga Syed Jamal. On the occasion, the DSWO said the program would be beneficial for the specially-abled persons as the camp not only provides aids and appliances but also gives awareness to such persons.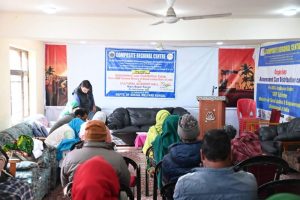 It was informed that the camp is in its beginning stage and in the future, it is going to asses and will cover all specially-abled persons across the district.
Specially-abled persons from different categories including women and children were provided with aids and appliances including hearing aids, smart canes, Misd Kits, walking sticks etc. Besides, providing aids and appliances they were also given training for the use of these appliances.