DC Kargil chairs District Level Aadhaar Monitoring Committee meeting
Emphasizes on 100% coverage
Kargil, Nov 24, 2022:
Deputy Commissioner/CEO, LAHDC, Kargil, Santosh Sukhadeve today chaired District Level Aadhaar Monitoring Committee meeting to review the status of Aadhaar registration and updation under various departments in the district.
ADC Guhlam Mohi-Ud-Din Wani, Program Officer ICDS, Chief Education Officer, representatives of J&K Bank, District Manager Common Service Centre (CSC), Unique Identification Authority of India (UIDI) and other concerned officers attended the meeting.
Threadbare discussions were followed regarding various aspects related to Aadhaar registration process carried out by the concerned departments which include Aadhaar Linked Birth Registration (ALBR), progress in mobile number linking with Aadhaar, usage of Aadhaar in various government schemes, monitoring of fraudulent activities related to Aadhaar and monitoring of activities at Aadhaar enrolment centres.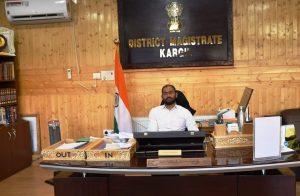 During the meeting, the Deputy Commissioner directed the concerned officers and officials to ensure the availability of Aadhaar enrolment centres in uncovered areas.
DC Santosh also directed for Aadhaar saturation in all age groups and mandatory biometric update for children.
Moreover, it was informed that ICDS Centers and hospitals will be provided tablets for Aadhaar registration adding that first preference will be given to District Hospital followed by all Community Health Centres across the district.
The DC directed to speed up the process of registration and emphasize on 100 percent registration across all concerned departments within the stipulated time.