DC Leh chairs DLTC meeting; launches NABARD prepared PLP for Leh district
Leh, Jan 03: The District Level Technical Committee (DLTC) meeting for financial year 2023-24 for Leh district was held today under the chairmanship of Deputy Commissioner, Leh, Shrikant Suse.
The meeting was attended by Chief Planning Officer, Leh; different stakeholders including, members DDM NABARD, LDM, Departments of Animal Husbandry, Sheep Husbandry, Agriculture, Horticulture, Poultry, Fisheries, Cooperatives; all the banks; NGOs and Farmers.
During the meeting the Scale of Finance for Leh district was fixed and increased by maximum 20% for different crops, vegetables etc. for FY 2023-24 based on the inputs given by all stakeholders.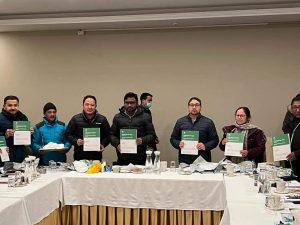 Chairman, DC Leh instructed the banks and line departments to boost KCC loans for different crops like millets, rajma, horticulture crops etc.
During the event, DC Leh, also launched the Potential Linked Credit Plan (PLP) with a projection of Rs.459.53 crore for the financial year 2023-24 prepared by NABARD for Leh district.