DC Santosh chairs district-level Aadhaar monitoring meeting 
Kargil, October 18, 2022:
Deputy Commissioner/CEO, LAHDC, Kargil Santosh Sukhadeve today chaired district-level Aadhaar monitoring committee meeting at DC, Conference Hall.
Sanjeev Mahajan, Director UIDAI, RO Chandigarh, Ashutosh Kaushik, Deputy Director UIDAI RO Chandigarh, Imteeaz Kacho, Joint Director Information and Program Officer ICDS, Ghulam Mohammad, ACD, Kargil, Mushtaq Ahmad, CEO, Mohd Taief, AM UIDAI, CSC, Manager, Kargil, Muzafar Ahmad, Conveyor Lead Bank, SBI, Kargil, Manager J&K Bank Kargil, DE BSNL Kargil, officials of India Post Kargil attended the meeting.
During the meeting, DC was briefed about Aadhaar saturation statistics in Kargil including age bands of up to 5 years and up to 18 years and status of Aadhaar kits in Kargil district.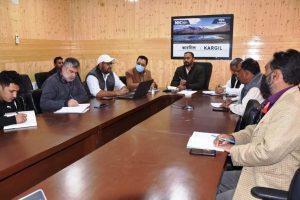 The Deputy Commissioner was also briefed on the initiatives being undertaken to cover the age groups of 0-5 years and 5-18 years in district Kargil.
The DC evaluated the Ladakh E-governance Agency's (LEGA) ICDS, School Education Department, CSC and J&K Banks Aadhaar Enrolment, updation progress and instructed the concerned officer to make all available kits functional.
DC Kargil instructed the School Education Department to identify school and class-wise data of children in district whose Aadhaar enrolment and biometric updation.
He directed the CEO for monthly calendar/roster so that each school is covered at least twice for enrolment and biometric updation of school children. The DC further instructed the CEO to hold awareness programs and camps to cover left out population in each school.
The DC also directed the ICDS to increase the Aadhaar enrolment saturation in 0 to 5 year age group. However, tablets need to be replaced.
The Unique Identification Authority of India has appointed the Department of Health of the UT of Ladakh as the Enrolment Agency (EA) under the Registrar Secretary IT, UT of Ladakh to cover the population of 0-5 years in designated hospitals in the UT of Ladakh. It was also discussed in meeting that CMO should identify operators from designated hospitals.
Sanjeev Mahajan, Director Aadhaar joined the meeting virtually and addressed issues like suspension of Aadhaar in case of biometric update is not done on time. He also discussed document update process. He suggested that awareness programs and camps should be held cover left out population.
The DC advised UIDAI that operators should be provided with incentive from Aadhaar assistance fund at the earliest and UIDAI should take the issue with Secretary IT, UT Ladakh.