DC Santosh chairs district-level monthly Narco committee meeting 
Kargil, March 31, 2023: Deputy Commissioner/CEO, LAHDC, Kargil Santosh Sukhadeve today chaired the meeting of District Level Committee of Narco Coordination Centre (NCORD) to discuss the action plan to curb drug abuse and narcotic trade in Kargil.
The meeting was attended by SSP Kargil, Anayat Ali Choudhary, Chief Education Officer Kargil, Chief Medical Officer Kargil, District Forest Officer Kargil, Chief Agriculture Officer Kargil, District Social Welfare Officer Kargil while Superintendent of NCB Jammu also joined the meeting virtually.
At the outset, DC Kargil held a discussion on various issues related to drug addiction, areas of concern, hot spots of drug peddling/abuse besides, cultivation of illicit poppy and cannabis in the district. The meeting also discussed the action taken on directions issued in the previous NCORD meeting.
DC Kargil stressed the need of awareness programs in a holistic approach to target schools and young population and by involving parents as well. He sought details from the concerned departments about the measures taken to control drug menace in the district.
During the meeting, the officers apprised about the situation concerning the drug menace and shared their suggestions and measures to be taken at district level to control the drug peddling and its consumption, besides measures for rehabilitation of drug victims.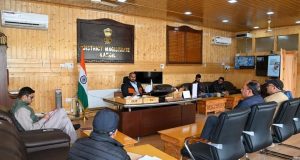 CMO Kargil apprised the meeting about the progress of rehabilitation centre in the district. The Deputy Commissioner instructed the Education Department to start the e-pledges from the Middle School to Higher Secondary level and also at college level.
The Police Department was instructed to keep strict vigil against drug proliferation, consumption and intensify awareness against such addictive substances by involving concerned stakeholders from the civil administration.
SSP Kargil reiterated keeping strict vigil on drug abuse activities and mentioned various awareness programs conducted by the Narcotic Unit Kargil to curb the drug menace. Assessing the equipment pertaining to drugs will also be fetched soon as the NH-1 is now open for public convenience to combat the same.
DC Kargil stressed on the need for sustained awareness campaigns against drug abuse and outreach programs and instructed all stakeholders to conduct drives in schools, colleges, etc.
He also stressed on awareness among local taxi drivers and street vendors. DC Kargil impressed the officials to make use of all available resources to effectively attain the goal.