DC Santosh reviews functioning of PWD, R&B, Hydraulics
KARGIL, SEPTEMBER 15, 2022:
Deputy Commissioner/CEO, LAHDC, Kargil Santosh Sukhadeve today chaired a review meeting of CAPITAL Budget 2022-23, CAPEX Budget State/UT, SDP, UT Budget, Languishing projects and centrally sponsored schemes (CSS) at his office Chamber.
The meeting was attended by Chief Planning Officer (CPO) Abdul Hadi, Superintending Engineer PWD Abdul Mutalib, Executive Engineer R&B Muhammad Sadiq, Executive Engineer PHE Mohd Hassan Lone, Engineers of the concerned department besides other concerned officers were present during the meeting.
The concerned officers from the respective departments apprised the DC about the physical and financial progress achieved on ongoing developmental works.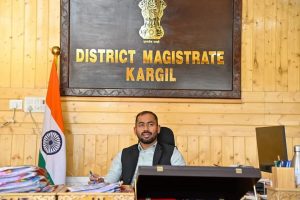 While reviewing the functioning of PWD, Works, R&B, PWD Hydraulics, DC Kargil instructed the concerned officers to complete 100 percent of works that are almost at completion stage.
DC Santosh also directed the concerned officers to book maximum expenditure of the works before the meeting to be held with the UT Administration which is scheduled soon.
During the meeting, DC Kargil also suggested purchasing of mobile toilets for public convenience which will be handed over to sub-divisions.
DC Santosh stressed avoiding duplicacy of works and advised the concerned officers to utilize the government funds in an organized way to provide maximum benefit to the general public.
The Deputy Commissioner also informed the meeting that any land issues with the general public in executing developmental works should be dealt through Councilors and PRI members with common consensus between the administration and the public.
DC Kargil also said that in case of shortage of manpower in the departments for the smooth conduct of developmental works, he instructed to write the recommendation for the hiring of manpower on outsourcing basis.