EC Mohsin inspects functioning of hospitals
KARGIL, SEPTEMBER 15, 2022:
Executive Councilor, Health and Agriculture, LAHDC, Kargil Mohsin Ali on Wednesday inspected the functioning of several hospitals in Kargil.
The EC was accompanied by the concerned Councilor, Deputy CMO Kargil, DAO Kargil, Tehsildar Sankoo, Executive Engineer SVD Sankoo and BMO Sankoo.
During the visit to NTPHC Trespone, he inspected the ongoing construction work of the hospital and issued necessary directions to Executive Engineer SVD Sankoo to expedite the work. He also interacted with the doctors, paramedical staff and enquired about the facilities being provided to the patients.
The EC also visited Health and Wellness Centre Lankarchey where the Councilor demanded upgradation of H&W Centre to NTPHC. The EC assured that the upgradation of the health facility will be forwarded to the concerned quarter.
He also visited Health and Wellness Centre and GMS Lankarchey Broq. It was informed that the construction work on the H&W Centre building is in full swing. However, due to the non-availability of motorable road at the site, the contractor is lifts the materials on donkeys.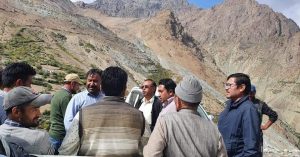 The EC instructed that the construction work could complete during the current year. The school building is in deplorable condition and needs immediate construction of new building with proper toilet facility.
EC Mohsin also visited Malikbar village where the Councilor informed that in the entire area no H&W Centre is available to cater the patients. He requested for sanctioning of H&W Centre at a suitable place. The EC assured that the demand for H&W Centre will be taken up with the concerned authorities.
EC Mohsin also visited Health & Wellness Centre Umba and inspected its functioning. The Councilor demanded construction of compound walling and first storey for the building. The EC assured that necessary directions will be given to CMO Kargil for necessary action in the matter.
EC Mohsin also visited Shilabar village where the residents demanded for immediate completion of Jal Jeevan Mission (JJM) scheme as the village has no source of water.
He also visited Stakpa village where the inhabitants demanded to start work on Nallah trailing as the village was affected due to recent flash flood in the area.