DFO, Kargil flags off first consignment of Lilum flowers from Ladakh to Delhi
Ladakh became a Union Territory in 2019. Agriculture and allied sectors in the region have experienced radical changes in this period. For instance, apricots from Kargil district and apples from Leh district have now started reaching national and international markets. The latest development in this sector is Lilium flowers. In fact, the first consignment, comprising of one quintal of Lilum flowers was flagged off from Ladakh to Delhi by Divisional Forest Officer, Kargil, Dhawan Kumar Rawat, IFS on 4 August, 2022.
This initiative is the result of Farmers Produce Company (FPC) called Rangyoul Organic Producer Company Limited (ROPC Limited). ROPC is supported by National Agricultural Cooperative Marketing Federation of India Ltd.(NAFED) and is being promoted as a Cluster Base Business Organisation (AGRIWATCH).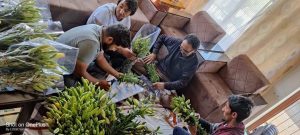 DFO, Kargil, D. K. Rawat said that this is a novel idea and congratulated ROPC Limited. He added, "These flowers are in great demand around the world and has immense market potential. It is great news that Kargil provides an ideal environment for Lilium flowers and the plants are producing seven to 14 Buds in Kargil, which is much higher than the international average for this plant in other places. I see great opportunities for floriculture in Kargil."
Chief Executive Officer of ROPC Ltd, Ahmad Ali said that Ladakh has the potential to becoming a major international hub for floriculture. "There are more than 4,000 Lilium flowers ready in the fields of farmers in Kargil," he added.
He explained Lilium flowers initiative was started by the then Director of Department of Industries and Commerce, Ladakh, Moses Kunzang who envisioned it as a viable cash crop for the farmers of Ladakh. "This has a lot of economic potential. We are experimenting with this and creating new opportunities for the youth of Ladakh. We had taken up Peas and Lilium on a trial basis as part of the FPC and within six months more than 160 farmers joined us to form 13 clusters. We are now one of the top performing FPCs in northern India," he said. He further added that the magic of Ladakhi flowers will soon start reaching flower markets around the world in the footsteps of Ladakh's apricots and apples.