Sankoo Campus of GDC Kargil conducted awareness Session on "Har Ghar Terangha"
KARGIL, 4 AUGUST 2022:-
Under the series of Azadi ki Amrit Mahotsav, Sankoo Campus of Govt. Degree College Kargil conducted awareness session on "Har Ghar Tirangha" for it's students on Wednesday 03 August 2022.
The awareness programme was part of it's action plan of the campaign "Har Ghar Terangha" hoisting of Tricolour at the residences of every citizen on 13th of August to 15th of August.
The "Har Ghar Tirangha" campaign was launched nation wide by Ministry of culture to mark the commemoration and celebration of 75th Indepence Day of India.
The awareness session was begun with the brief introductory speech by Dr. Ijaz, assistant Professor, Department of Chemistry.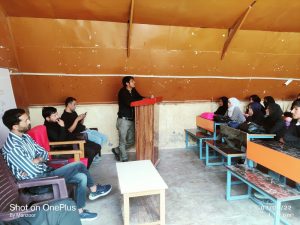 He highlighted the history of national flag of India.
While Prof. Nasir ud Din, Department of English, presented his talk on description of National flag in which he stressed the shape, size and symbolic importance of national flag in view of national and international scenario.
He also stressed on the guidelines for proper usage, exhibition and hoisting of national flag.
Dr. Abid Hussain, the Nodal Officer Sankoo Campus of The Campaign "Har Ghar Terangha" shared his view in light of the National flag Code-2002 and prevention of insult of national symbol act, 1971 as well as revised national flag amendment 2021.
He advised the students to take thorough study of the National flag code 2002, and raise the tricolour on 13th of August to 15th of August at their residence with honour to mark the symbolic 75th Day of India.
The proceedings of this session was anchored by Dr. Ijaz assistant Professor Chemistry.