Director RD&PRD visits TSG, Barsoo, Sankoo, inaugurates segregation sheds, reviews developmental works
KARGIL, SEPTEMBER 26, 2022: Director Rural Development and Panchayat Raj Department (RD&PRD), Tahir Hussain Zubdavi today visited TSG, Barsoo, Sankoo, and inaugurated solid waste segregation sheds at TSG Block and Sankoo.
He was accompanied by DPO Padma Angmo, Exen REW, Shabir Hussain, BDCs, BDOs, District Nodal Officer, Muhammad Toha and Sarpanchs and Panchs of respective blocks.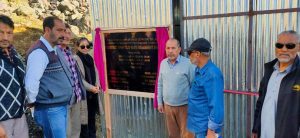 First the director visited TSG Block where he inaugurated solid waste segregation shed and appreciated concerned officials for waste segregation works.
Later, the director visited Barsoo where he inspected the developmental works and took ongoing assessment of work of BDC Offices.
He also visited the under-construction shed site and instructed the concerned officials to complete the remaining works before the working season. Zubdavi also instructed the concerned JEE to prepare and submit DPR of Community Hall (second phase) at the earliest.
Later, the director visited Sankoo and inaugurated segregation shed. He also took review of the developmental works and instructed the officers to complete developmental works on priority.
At Sankoo, he also inspected Panchayat Ghars and CFC Centres.
Meanwhile, the director is also scheduled to inaugurate segregation shed tomorrow (September 27) at Shargole, Kargil.