Directorate of Animal,Sheep & Fisheries accords warm farewell to Dr Raza Abassi
Leh, March 20: A bid farewell function was organised by the Directorate of Animal/Sheep Husbandry & Fisheries, UT Ladakh to Dr Muhammad Raza Abassi, Director Animal/Sheep & Fisheries Department, UT Ladakh today.
Advisor Ladakh, Umang Narula; Principal Secretary, Dr Pawan Kotwal; Secretary Ravinder Kumar, besides other district officers were present during the occasion.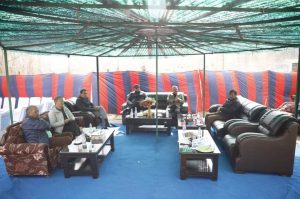 During the farewell function, services rendered by Dr Muhammad Raza Abassi were hailed.
Dr. Muhammad Raza Abassi thanked all the District Officers Leh and Administration for hosting the bid farewell party.
All officers congratulated him on his retirement and wished him the best for future.