Div Com Ladakh reviews preparation for 4th UT Foundation Day
Exhibitions, cultural functions, heritage walks and sporting events to mark the occasion
Leh, October 28: To mark three years of Ladakh Foundation Day on October 31, 2022, the Divisional Commissioner, Ladakh, Saugat Biswas reviewed the preparations for the celebration at the DC Conference Hall, Leh.
In the meeting, Div Com, Biswas impressed upon the officials to ensure maximum public participation in the festivities. Further, he assigned arrangement responsibilities to various departments and committees as per the work requirement and instructed the concerned HoDs to undertake the responsibility efficiently.
The Divisional Commissioner, Saugat Biswas stated that on October 31, the festivities will kick start in the morning with a heritage walk from the iconic Leh palace to the main market organised by the Tourism department giving a diverse experience of the rich cultural history and heritage of the region. This will be followed by the inauguration of a food festival in the Leh bazaar involving Self Help Groups and various women's organisations showcasing the local cuisine, beverages and culinary styles, he added.
Biswas informed the meeting that the public event will take place at the Eco Park near Balkhang Chowk. He said all the departments viz Handloom and Handicrafts, PHE, Jal Jeevan Mission, Agriculture and Horticulture, etc. will put up stalls showcasing the notable achievements after the formation of the UT, displaying their respective products, and also give information about various schemes and programmes to the general public.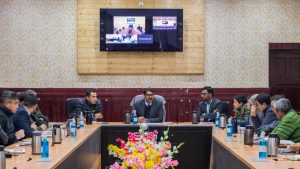 The festivities will conclude with a Music concert featuring contemporary Ladakhi music bands at Eco Park, in the afternoon. Rides on the famous Bactrian Camels (double-humped) of Ladakh will also be available for the people to enjoy.
A separate function will be held for the inauguration and training cum orientation of newly appointed employees at Sindhu Sanskriti Kendra at Leh.
Similarly, celebrations will also take place in Kargil with Cultural programmes and Unity Run being organised. DC Kargil, Santosh Sukhdev apprised the meeting that on Unity Day, people from various walks of life and ethnicities will participate in the celebrations to encourage unity in diversity. On that day 'Ekta pledge' will also be administered to all, he added. As a prelude to the foundation day, the Department of Sports will organise a football match and track and field events on October 29, 2022.
The meeting was attended by Secretary, Tourism Ladakh; Deputy Commissioner, Leh/Kargil; DIG, Ladakh, Sheikh Junaid Mehmood; All HODs; Sr. Superintendent of Police, Leh/Kargil; Chief Engineer PWD, Ladakh; Chief Engineer PDD, Ladakh; Technical Director, NIC; Joint Director, Handicraft/Handloom, Ladakh; Joint Director, Information, Ladakh; Superintendent Engineer, PWD, Leh; Superintendent Engineer, PDD, Leh; Deputy Secretary, Cultural Academy, Leh/Kargil; AD, Information, Leh; Chief Education Officer, Leh; AD, Tourism, Leh; DYSSO, Leh; Executive Officer, Leh; Superintendent Archives, Leh.