Div Com Ladakh reviews winter stocking;
Urges Departments to speed up procurements
Leh, Sep 26: Divisional Commissioner Saugat Biswas today chaired a meeting of the concerned departments of the Union Territory to assess the status of their preparedness for the coming winter months.
Administrative Secretary Mehboob Ali Khan, DC Leh Srikant Suse and officers of the departments of Food, Civil Supplies and Consumer Affairs, Power, Health, Forest, Animal & Sheep husbandry and Cooperatives attended the meeting. Representatives of Merchant Association, Leh & Kargil were also present.
DC Kargil Santosh Sukhdev and officers of the concerned departments, Kargil attended the meeting virtually.
Post discussing total storage capacity and present stock figures of all departments dealing in non-perishable goods, Div Com Biswas instructed to complete procurement procedures before the closure of roads.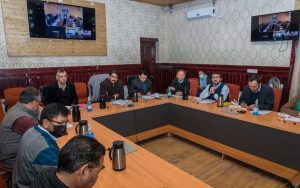 While discussing consumable goods procured through the Cooperative Societies, the Div Com directed both the DCs to set up a committee to ensure standardized quality/packaging of the goods especially that of perishables such as eggs.
Streamlining procurement of vegetables grown locally in polycarbonate greenhouses during winters was also urged by the Divisional Commissioner.
LPG, Petrol, Diesel, Kerosene, Air Turbine Fuel (ATF) and firewood, hard coke and procurement of food grains by FCI as well as FCS & CA were discussed in detail with special emphasis on stocking in Zanskar.
While discussing the Power Department, Div Com Biswas urged the concerned to make efforts in increasing the productivity of the DG sets being presently used.
Div Com Biswas also discussed in detail the procurement of feed and medicines for livestock under Animal and Sheep Husbandry, medicines and machinery/equipments in Health Department. Up-gradation of District Hospital Kargil was also discussed during the meeting.
Representatives of the Merchant Association, Leh flagged the issue of hiked cargo rate on closure of roads resulting in exaggerated rates for fruits, vegetables, etc.