Drugs and Food Control Organization organizes awareness program on drug addiction at Sankoo
Kargil, October 20, 2022: A team headed by incharge Drug Controller, Drugs and Food Control Organisation, UT Ladakh Mohd Bashir, today organized an awareness program on drug addiction at Higher Secondary School Campus, Sankoo, Kargil.
Various personalities from civil society, the women help groups, Panchayat representative of area Councillor, School Administration including Principal Tashi Dorjay, incharge Block Medical Officer Sankoo and Govt. Pharmacist participated in the event.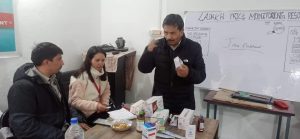 Mohd Bashir the incharge Drug Controller, Nawang Tsetan Project Coordinator LPMRU, Nazia Kouser, Field Investigator LPMRU, Tashi Dorjay Principal Hr. Secondary School, Dr. Sayed incharge BMO were the main speakers along with Tahir, the representative of the area Councillor.
All the participants urged to follow and spread the information shared to them and help in prevention of drug addiction and illicit trafficking among children which has become a challenge by helping administration and society to eradicate the menaces of drug addiction.