Five-day training on digital content creation concludes at DIET Leh
Leh, Oct 21: The five-day training programme on digital content creation organised by the Director, School Education, UT Ladakh in collaboration with CIET, NCERT, New Delhi concluded today at DIET Leh in the presence of chief guest Member of Parliament, Ladakh, Jamyang Tsering Namgyal.
Programme Coordinator CIET, NCERT, Dr Angel Rathnabai; Asstt Professor, CIET, NCERT, Dr Amit Ranjan; Asstt Prof, CIET, NCERT, Rejaul Kareem; Principal DIET, Leh, Tsetan Dorjay; DEPO Leh, Sonam Wangchuk; Teachers and Training Coordinators were also present.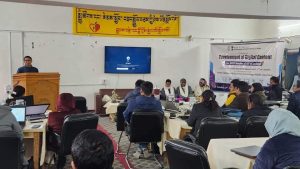 The programme aimed to train the State Resource Groups (SRGs) and DIET faculties in Digital Content creation for developing digital repositories for DIKSHA and content creation in the local context in Ladakh.
At the outset, Dr Angel Rathnabai briefed about the five-day training programme.
In his address, MP Ladakh, Jamyang Tsering Namgyal stressed the importance of digitalisation in education in Ladakh.
45 SRGs from Leh and Kargil along with DIET faculties of both districts participated in this training session and shared their feedback during the concluding session.
In the end, DIET Kargil faculty, Dr Wilayat Ali presented the vote of thanks while the whole programme was coordinated by HoD, DIET Leh, Tsering Yangdol.