Dy Chairman Angchuk attends mega sports event for Children with Special Needs
Leh, 23 August: Deputy Chairman, LAHDC, Leh, Tsering Angchuk today attended a mega sports event for Children With Special Needs (CWSN) at Open Stadium, Spituk as the chief guest.
Chuchot Councillor, Mirza Hussain was the guest of honour and Chief Education Officer, Leh was present as the special guest.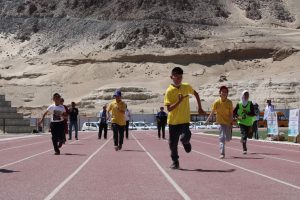 The event was organised by the Chief Education Office, Leh under the component of Inclusive Education in collaboration with MUNSEL Society, PAGIR and REWA Society.
Deputy Chairman, Tsering Angchuk stressed the need for a friendly environment for children with special needs to facilitate their integration into society.
He said, " we need to create awareness among the masses regarding the needs of these children and also help them to participate in day-to-day activities."
Angchuk said that the Hill Council is trying its best to provide these children with all the facilities and also help to have started a livelihood programme for them.
Later, he thanked the concerned departments for making the event successful and assured all possible support in future as well.
During the event, Councillor Chuchot said that it was a special and emotional day to have witnessed an event of such a scale. He was impressed by the performance of the children and congratulated the parents, teachers, coaches, and volunteers for organizing the event.
He further added that the need of the hour is to encourage the students to explore their sporting talent. He also hoped to organise such an event in future.
Earlier, around 89 children with special needs participated in different games such as Race, CP Race, Wheelchair Race, Sack Race and Sponge Game. The participants were very enthusiastic about their participation.
The children also performed cultural programs during the event and enthralled the audience watching them.
Later, winners of the event were presented with trophies and certificates.
A large number of the audience witnessed these games and encouraged the participants by cheering them.
In the end, Nodal Officer, Inclusive Education, UT Ladakh, Nahida Bano presented the vote of thanks.
DYSSO, Leh; DEPO, Leh; ZEO, Leh; ZEPO, Leh; Headmaster, High School Chuchot Yokma; President and staff of Rewa, MUNSEL and PAGIR; Officials of District Youth Services and Sports, Leh; Committee members of Education Department, Leh; parents and students were present during the event.