EC Fazili, EC Mohsin visit Shakar Chiktan subdivision
Kargil, Nov 25, 2022:
Executive Councilor Social Welfare, Handloom, Sheep and Animal Husbandry, LAHDC, Kargil Aga Syed Mehdi Fazili along with EC Health Mohsin Ali today visited Shakar Chiktan subdivision.
During the visit, the SDM Shakar Chiktan, CAHO, DSWO, IC DSHO, BVO and representative of Handloom Department accompanied the Executive Councilors.
The ECs inspected CDPO Office, BVO Office, newly-constructed building of CFC Chiktan, LDO Office, GMS Khardoon, identified land proposed for construction of Veterinary Hospital-cum-Office complex.
The employees of different departments requested for the posting of staff in the centres, construction of new office building and providing of electric facilities to the offices.
The ECs presented traditional khatak to Headmaster Govt. Middle School, Khardon for getting 3rd position in TLM Mela organized by the Education Department at UT level.
They also appreciated the efforts taken by the teacher concerned and students of the institution and awarded cash prize to the participating student.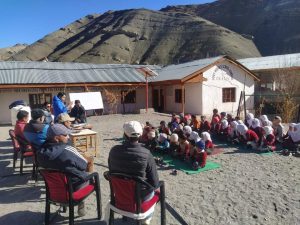 The Headmaster requested for PA system, construction of additional classrooms, compound walling and posting of PET.
The ECs gave a patient hearing to the issues and assured to provide the same for the institution. They directed the Headmaster to collect the same by tomorrow from Kargil.
In order to redress other demands, they assured that the matter will be taken up with the Education Department for early redressal.
While returning back from Chiktan, they inspected Pashmina Goat Farm Khangral. The farm incharge requested for revised AAA for Land Development and drinking water which has already been submitted to the concerned. The concerned EC assured that the matter may be taken up with the department concerned for immediate action.
The farm incharge also informed that the farm has produced 90 quintals of Alfa Alfa from the available farmland.