EC Mohsin reviews progress of developmental activities of Chiktan Constituency
Kargil, Dec 17, 2022: Executive Councilor, Health, Agriculture, Revenue and Forest, LAHDC, Kargil Mohsin Ali today convened a meeting with officers of Public Works Department and Rural Development Department to review the progress of developmental activities in Chiktan Constituency.
During the meeting, officers of executing agencies presented physical and financial achievements of each work before the EC.
A detailed discussion was held on the developmental activities/works in Chiktan Constituency undertaken by various departments.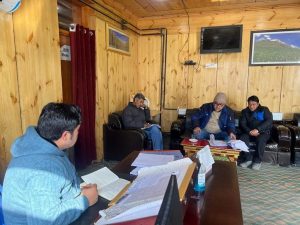 EC Mohsin expressed satisfaction over the pace and progress of works and directed the concerned officers to speed up the progress of works in view of the limited working season in the district.
He also directed to complete the works during the current financial year, according to the target fixed by the department and make sure to utilize the sanctioned funds for the purpose and to avoid creating liabilities for the next year budget.