EC Mohsin takes review of snow clearance works, status of basic amenities in Shakar Chiktan
Kargil, Feb 14, 2023: Executive Councilor, Revenue and Health, LAHDC, Kargil Mohsin Ali today took stock of the progress of snow clearance work and status of availability of basic amenities in Shakar Chiktan, Sub Division.
The EC convened a meeting in ZEO Office in the subdivision with all Sub Divisional Officers especially with the Executing Agencies who were directly involved with snow clearance work.
The meeting was attended by Sub Divisional Magistrate, Mohd Sharif, Block Medical Officer, Tehsildar and the AEES/Representative of PMGSY, PDD, PHE, R&B and Mechanical along with JE concern of GREF.
The SDM briefed EC Mohsin about the role of each department in clearing the snow and actions taken by his department in urgency and the coordination between the departments with result almost all the road connectivity has been established within two days.
The SDM appreciated the role of each department and especially mentioned about the station of JCB and drivers of Mechanical Department at Headquarter Chiktan that helps in snow clearance on time and requested to replace the present JCB with new snow cutter.
During the meeting, the SDM also thanked LAHDC Kargil and District Administration for release of relief amount to drought-affected families of 2022 and also for issuance of free feed (cattle) distribution to them.
EC Mohsin also took stock of work, especially snow clearance from each of the Executing Agencies like GREF, PMGSY and Mechanical and appreciated their work. He hoped that the same co-ordination will continue in future so that people don't face any difficulty.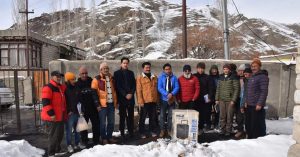 The EC congratulated the people of Kargil and especially of Shakar Chiktan adding that this is for the first time after a dry winter spell winter, this year witness good/satisfactory snowfall which is good for better summer.
He specially thanked the Executive Engineer PDD and the JE, PDD who restored the power supply despite snowing within a day.
The EC also handed over a PA system to the SDM and hoped that it will be useful to the administration more particularly during the announcement of warnings during any kind of disaster.
Later, the chair presented traditional Khataks to all Executing Agencies involved in snow clearance as a token of appreciation and hoped to continue such coordination in the future.
Later, the Ex. Councilor visited the CHC Chiktan and took stock of the ongoing work of under construction CHC building. During the inspection, the chair directed the AEE, R&B to speed up the leftover work and stressed not to compromise with quality of work.
The EC instructed R&B Department to prepare the list of completed works or projects for inauguration and also identify new works the foundation stone of which would be laid in March-April 2023.