EC Mohsin visits Phosathang to assess construction of field channels, land development
KARGIL, AUGUST 12, 2022:
Executive Councilor, Health, Agriculture & Revenue, LAHDC, Kargil Mohsin Ali along with the officials of Command Area Development Department Kargil, Phosathang Committee Members and Members of Hagniss village today visited Phosathang for on spot assessment of construction of field channels, land development etc.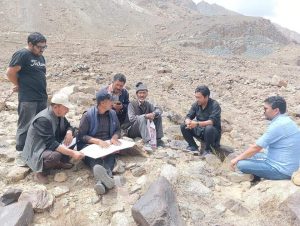 EC Mohsin informed that the Project has been approved with an estimated cost of Rs 6 cr, out of which Rs 1 cr has been sanctioned during the financial year 2022-23 under the Special Development Package by the UT Administration.
The EC thanked the UT Administration for sanctioning the project in a short period of time for betterment of general public as Phosathang area is rich in soil in the district for horticulture produce.
The Village Committee Hagniss appreciated the efforts taken by the Executive Councilor for sanctioning the project.